Woocommmerce vs Opencart : Ecommerce Platform Right For You
As more and more businesses are moving their products and services online, eCommerce players are making every serious effort to respond to their customer needs and wants in the manner most effective. eCommerce business is dictating the trend and it shows no signs of being supplanted.
However, to create a successful online store, one must have a practical approach to the key skills and tools they need to kick start their online venture. In simple words, one needs to know which eCommerce platform is right for their business along with all the essentials that help them monetize their website.
There are a number of options out there when it comes to choosing a perfect eCommerce partner for your shop, both free and paid. The eCommerce solutions diversity is huge and users have a plethora of options to choose from. However, if you want something right out of the box then you have two choices – WooCommerce and OpenCart.
Both of these are leading eCommerce tools that make it easy to set up an online store, and have tons of options and possibilities for customization. Here's a comparison of the relative popularity of the two platforms over time.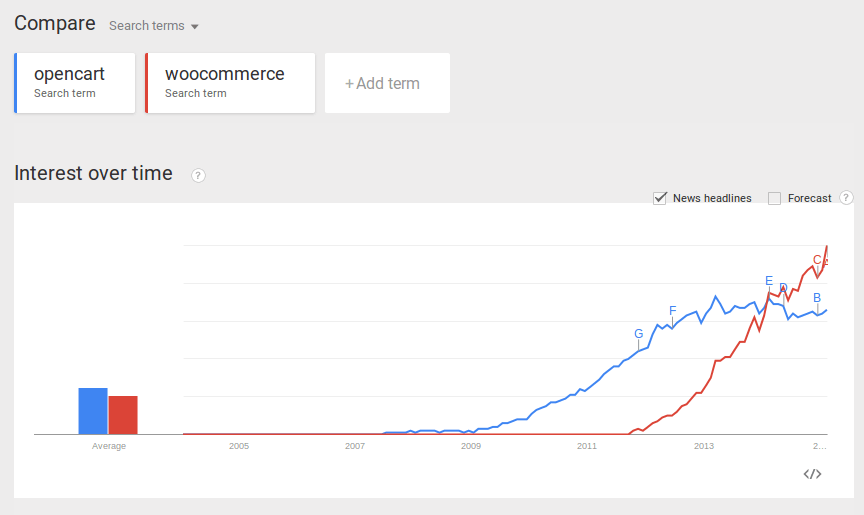 In this post, we will look at the key differences between both of the plugins to make it clear what they are, what are their features, what they offer and how and so on.
Launched in 2008, OpenCart is a simple, open-source shopping cart system designed to manage the needs of any online store, irrespective of its size. It is free, feature-rich and comes packed with its own set of themes and extensions. It's a complete eCommerce system which supports a server usually PHP5, MySQL5, and Apache. Although it can be hosted on any server of your choice till it meets the system requirements.
WooCommerce was launched in 2011 by WooThemes and is a plugin designed for WordPress websites. Using WooCommerce one can easily convert an existing WordPress site into a fully-functional eCommerce store. It's a wildly successful plugin, partly due to the reliable company behind it, and the robust set of features it offers to ensure an engaging shopping experience to your visitors.
And now, to the comparison of the two platforms!

Ease of Installation
Installing OpenCart is pretty easy. There are two ways through which one can easily install it – one is manually, and the second is by using a single click script installer.
The first option is a bit of a complicated and tiring process, however, using this method you will have better options and facilities for customization. The second one (the single click script installer) is a nice option for those who want to set up their store in the fastest possible way. Softaculous and SimpleScripts are two installers used for OpenCart.
WooCommerce, as mentioned already, is a WordPress plugin, so a WordPress site is a prerequisite for installing WooCommerce. When the site is all set, the plugin can be downloaded and installed directly from the WP dashboard. You can also visit WordPress.org to download the plugin, and upload the necessary files.
The Bottom Line WooCommerce has an easier install process than OpenCart.
Extensions, Themes and Add-ons
OpenCart boasts an impressive front-end template by default, but as a user you have the freedom to choose your own template from over 2000 options. Themes can be both free and paid, ranging from $60-$70. There are also a great deal of add-ons available.
The integration for Google Analytics, Facebook, and Twitter is available by default, however for Amazon and eBay, and some other useful services you need to pay for some special extensions. There are also excellent shipping options, and SEO related add-ons.
WooCommerce, on the other hand, does not include some basic functionalities as compared to OpenCart, so you will have to pay for a good amount of extensions to meet your diverse needs. You'll need to pay for different payment processors such as PayPal.
Also, WooCommerce provides limited support, and you have to pay additional fees to gain access to the forum.
As far as templates are concerned, WooCommerce comes with a handy collection of free and paid themes. The price of these themes can be between $39-$79, provided with Adobe Photoshop options.
The Bottom Line OpenCart comes with more out of the box, but both of these platforms feature a pretty wide selection of handy add-ons and plugins to get your store rolling.
Customization
It is quite tricky to carry out customizations to the theme you use in OpenCart. The template structure is not easy to access, and its pieces of code are stored in the database instead of HTML, thus making it difficult for a webmaster to get the job done.
When talking about WooCommerce, the plugin is blessed with an amazing customization abilities. The plugin offers all the necessary administrative tools to revamp the overall quality and functioning of your website. Also, there is a greater degree of control when it comes to making modifications to the design.
The Bottom Line WooCommerce has simpler and better customization features that OpenCart.
Multiple Stores
OpenCart is an independent eCommerce solution so it's quite easy to set up multiple eCommerce sites using a single installation.
This feature is something which isn't available in WooCommerce. It cannot be used on websites other than WordPress and you need multiple installations to create multiple shopping carts. However, for OpenCart it is not required for you to use multiple installations and sell your products.
The Bottom Line OpenCart is a better platform for managing multiple stores. It is also more flexible in that it works on any website, rather than only WordPress.
Conclusion
Both of the plugins have their own set of pros and cons, so it ultimately boils down to your own individual needs. If you are tech-savvy, want an independent online channel, and do not need too much customization then go for OpenCart. But, if you want to extend the functionality of your website in the simplest way then you should go for WooCommerce.