Facebook Live 101 : Video Marketing on Facebook
Since August 2015, a new service on Facebook has been making some big waves in the realm of video: Facebook Live. Through a slow release of Live, more and more personal profiles and businesses have had access to this real-time marketing feature.
Facebook Live meshes the ever-popular video with the idea of instant gratification. Rather than watching a pre-recorded video, users can tune in to a live broadcast from their friends, family, and – now – even businesses.
Facebook Live has set a new standard for social media marketing.
The reach of these Live posts is limited the same way as any other organic post, but as the program continues to expand, more and more users will have access to recording and watching live videos right in their own Facebook stream.
If you're ready for a revolutionary way to step ahead of the traditional video, it's time to make your plan of attack for Facebook Live.
Whether you've dabbled in Facebook Live or looking to start incorporating live-streaming into your static or dynamic content strategy, you'll want to ensure that you've got your basics covered. Here's the down-and-dirty basics to Facebook Live:
Broadcasting
There are two ways you can broadcast with Facebook Live:
Through your profile: This one's easy to do. Go to your status update section, and at the bottom, you'll see a new icon for Facebook Live. Write a short description in the status box (which is now your video title), and then you can choose your audience if you so choose like you would with any other status (public, private, etc). Then, tap 'Go Live' to start recording!
Through Mentions App: Open the app, tap the 'Post' icon, and then tap Live Video. Here, you don't select an audience since everything you post is public on a business page.
Now, broadcasting can be as fun, dull, effective, or flat as you make it. You'll see how many viewers you have and the comments they have in real time, so you can adjust what you're doing based on the immediate feedback they give. Be sure to invite viewers to tap the 'subscribe' button as well so they can be notified the next time you go live. Once you're done, the video is saved on your timeline like any other video so folks can watch and rewatch it later on.
Video Best Practices
Going live brings with it a whole new set of standards, and it's what makes for some great bloopers down the road. While these can be all good and fun, you don't want to have a catastrophic flub on a live video. Similarly, you're forced to have a plan of action, or else you'll lose viewers and potentially break down relationships.
Making a live video isn't completely off-the-cuff. Here are some of our best tips:
Have a topic and a plan of action
Don't just start a live video with an idea you just came up with. Be sure that you have a topic in mind, and know the general overview of where you want to go with things. Things may get tangential, but you don't want to trail off when you realize that your idea was either ineffective or short-lived in terms of its thought process.
Focus on a title
Your live video can be packed with great information, but without a compelling title, you're likely to miss out on gaining the most viewers. When people get a notification that you're live, the title is the only thing they see when deciding whether they want to join you, so think of it like a first impression. Don't botch this one, or you'll miss out on the engagement.
Audio is Important
Your voice can become muffled and soft very easily when you're doing a live video with your phone. Either use a microphone, or speak loudly and clearly so your viewers can understand what you're saying.
CTA
Don't forget that just because you're using a live video doesn't mean you aren't utilizing many of the marketing tactics you would in a regular video. Make sure to end with an engaging call to action to direct viewers on what to do next.
Editing
Sure, you can't do much about editing during the filming of your live video, but once you're finished, it's time to go back and clean things up. When you go back to your video that's now on your profile, make sure to edit the following:
Thumbnail Image: You can upload your own or choose from one of 10 images provided by Facebook.
Category: Choose a category from the drop-down menu to help organize your video into a pertinent industry.
CTA: You can add a CTA like 'shop now', 'learn more', or 'sign up'. Match it with what you said at the end of your video!
Video Ad: In Ads Manager, you can boost this post into a video ad.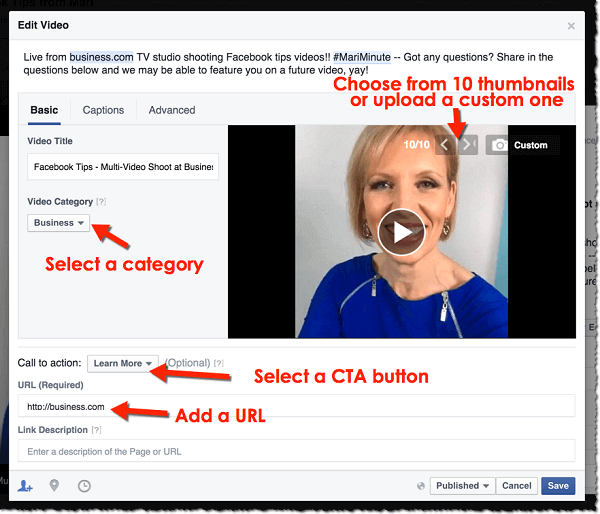 Repurpose and Reuse
The great part about Facebook Live is that your videos stick around long after you've gone live. You can use these videos then to continue to engage users. In the same way that you repurpose other content, you can repurpose your video too. Embed it in future blogs, or take the information you spoke of in the video and turn it into Tweets.
Keep in mind that when you embed your video, it will show up on your Facebook view count and you may also get new fans and subscribers.
So what do I use Facebook Live for?
If you're thinking that a live video would have different content from a standard video, you're not entirely wrong. Facebook Live is great for reaching customers in a more personal way, but you'll want to hype up the 'live' factor by ensuring that when customers take the time to tune in, they're rewarded with some pretty sweet content. Here are some ideas:
Behind-the-Scenes Tours
Q&As
How-Tos
Product Demos
New Product Launches
Breaking News
You can amp up your reach by telling folks when they need to tune in for the live video, and be sure to reward them with the special treatment they're expecting. They're tuning in live, so they want to receive content first. That means they don't want old content — they want the newest, best, most late-breaking product and business info you can give them. Make sure to deliver!
One more thing…
Just this past month, Facebook rolled out an interactive global map. Social Media Examinerreports:
Facebook introduced an "interactive map that shows you [public Facebook Live] streams that you can tune into in real-time" from all over the world and "who's watching the video you've selected." The Next Web reports that this new feature "has been around for the past month, but it's now easier to find on Facebook's desktop site." The interactive map is rolling out slowly throughout the world, but there's been no word on when it will be available globally.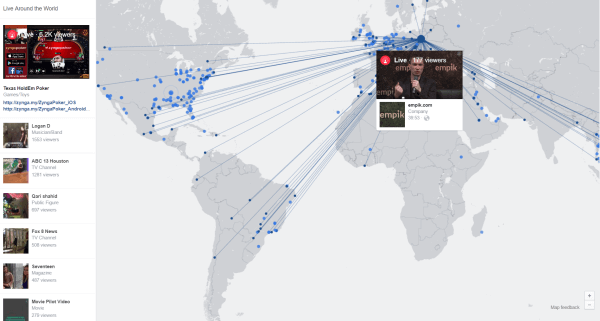 You tell us: Have you used Facebook Live?